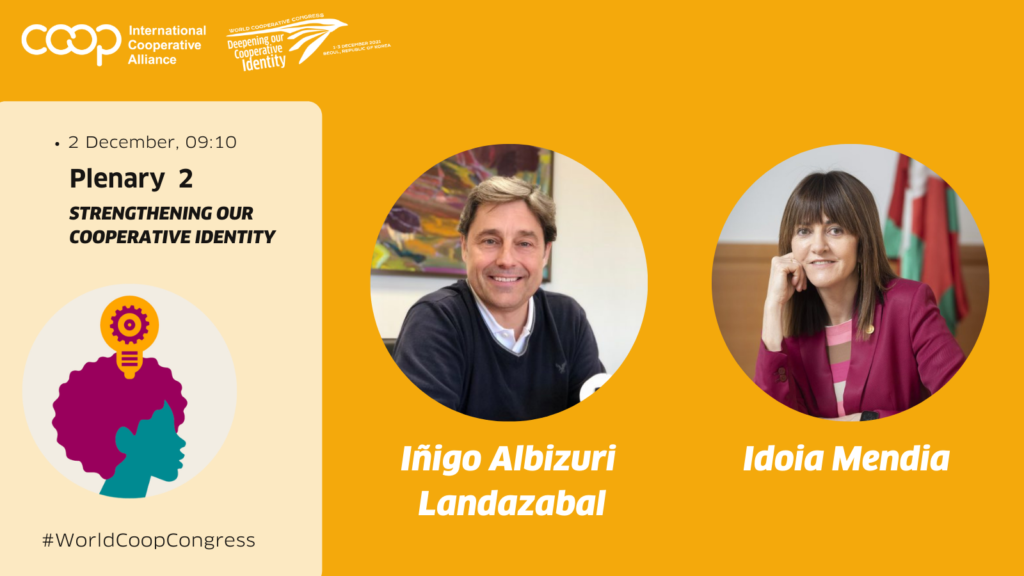 Plenary 2 of the World Cooperative Congress focused on strengthening the cooperative identity and making it a competitive advantage in the global market.
The plenary opened with a speech by Idoia Mendia, Deputy Lehendakari [Governor], Basque Autonomous Region, who highlighted the close relationship between cooperatives and the Basque government.
"Our identity connects profoundly with the cooperative identity," she said.
The first Basque Country cooperative was created in 1920. Later in the 1950s the Mondragon Corporation was formed, which grew little by little. Today Mondragon boasts 289 enterprises, including 96 separate, self-governing cooperatives. There are 3,095 co-ops in the Basque Country, 2,059 of them are associated work co-ops (worker co-ops).
"In the Basque Country we have always promoted cooperatives," she said, adding that cooperatives were  "not just a community of values but of real economic alternatives" – and a natural ally for policies that create economic value and are cohesive, both in the Basque country and worldwide.
She said the Basque government sees cooperatives as an important actor in building a better future post pandemic.
Iñigo Albizuri Landazabal, Director of Public Affairs at MONDRAGON Corporation and President of CICOPA, highlighted the support MONDRAGON received from the Basque government and the Spanish government, adding that cooperatives also enjoyed a supportive legislative environment.
He suggested ways to make the cooperative identity a competitive advantage by communicating what cooperatives do, educating members and the public at large and supporting the development of new cooperatives and investing in research.
"In the Basque Country we have more than 40 researchers on the topic of cooperatives, we have so many thinkers examining the cooperative model. It's important to have a tool so that the voice and statistics on cooperatives are heard all around the world.
Quoting José María Arizmendiarrieta, the founder of Mondragon, he argued that "the ideas are worth nothing if you cannot put them in practice".
"This congress is a good starting point to put them in practice," he said.
Panel discussion
Minister Mendia and Mr Landazabal were also involved in a panel discussion on the cooperative identity as a competitive advantage, where they were joined by Seungkwon Jang (Professor Division of Business Administration, Sungkonghoe University, Republic of Korea), Tarun Bhargava (Chair of the ICETT, IFFCO, India) and Sylandi Brown (Marketing & Communications Specialist, Middle Georgia EMC, United States).
Prof Jang mentioned two challenges that cooperatives faced: digital transformation and climate change.
For Sylandi Brown, some of the main challenges are rural depopulation, infrastructure connectivity, fighting for talent and inclusion.
At IFFCO, the pandemic posed several challenges to which the cooperative responded by using digital tools and increasing farmers' income, especially by developing nano urea, a cost effective, environmentally friendly product.
Mr Landazabal added: "The cooperative way of doing business is going to be a better choice not only for workers but also consumers".
Minister Mendia emphasised the resilience of cooperative enterprises, which, she said, have a better capacity to adapt because their structure enables them to maintain jobs and shift workers from one cooperative to another during times of crisis.
"In this crisis they showed a huge capacity of transformation", she said, adding that some had switched to producing PPE. "The values are key to their response," she said.
Ms Brown said cooperatives were there to meet the needs of members. At her cooperative this was done by providing broadband services, something members had asked for.
"We now have a fresh perspective of how we can incorporate the cooperative identity within this new service," she said.
Prof Jang highlighted that cooperative values and principles actually led to members' participation in economic activities.
"You need loyal customers, members and employees who really believe in the values of the organisation."
He explained that a recent study conducted with his students found that what members valued the most showed what consumers cooperatives did best.
Mr Landazabal also emphasised that new times needed new solutions but "it is really important that we maintain the same values."
"We need to cooperate with our governments. We cannot go it alone," he added.
Prof Jang argued that the cooperative identity needed to preserve its core elements whilst also innovating and changing.
Panellists also agreed that there was a direct link between the cooperative identity and innovation.
"As cooperatives, we have the heart of a non-profit but the mind of investor-owned companies. As young people also from the customer side, we are not only looking to support businesses that are giving us the products and services we need," said Ms Brown.
"The congress is a great opportunity for us to gather different types of cooperatives in order to share experiences. The cooperative model is useful, is valuable and we need to adapt it to our times. But it is also an efficient model, it has people at the heart and it can adapt to challenges," concluded Mr Landazabal.