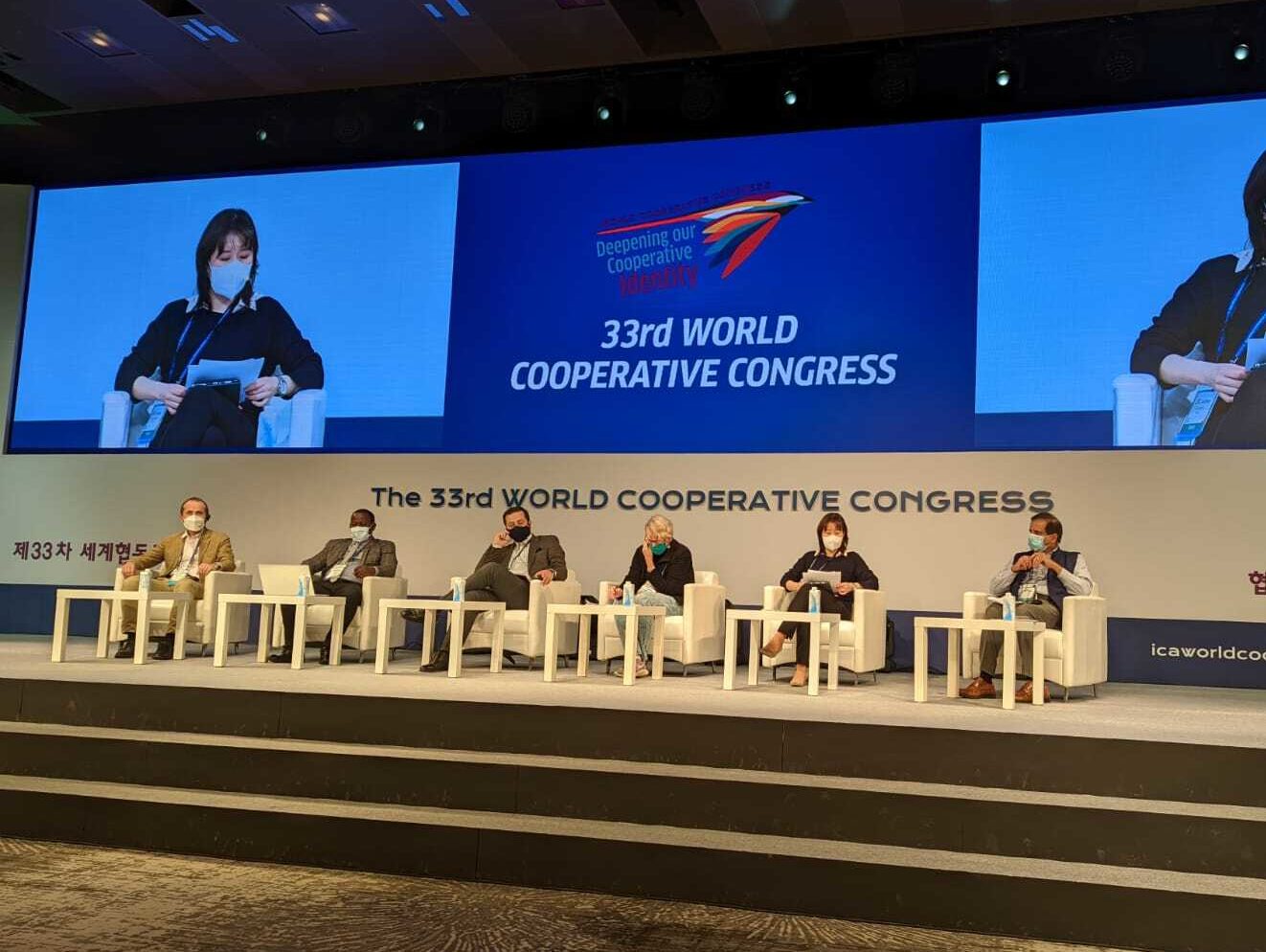 A plenary session was held on the afternoon of 2 December to summarise sessions centred around the second key theme of Congress: Strengthening Our Cooperative Identity. Consumer cooperative specialist Ann Hoyt chaired the session with a group of rapporteurs who shared each session's highlights.
Alireza Banaeifar, International Affairs Manager at the Iran Chamber of Cooperatives, reported back on the plenary and roundtable sessions on Strengthening our Cooperative Identity. He highlighted issues of education and food security, as well as the need for coops to engage with both members and workers. He relayed a message from the session, that "it's in our DNA to ask the needs of our members, but needs are always being changed," going on to say that new these needs means new solutions are required for a better society.
Balasubramanian Iyer, the ICA's Asia and Pacific International Regional Director, fed back from the parallel session on Strengthening our Cooperative Identity by Taking Advantage of the Digital Age, summarising two areas of discussion. One, how do existing coops leverage technology that is currently emerging, and two, how do we look at new forms of technology as opportunities for the development of new coops. Mr Iyer also highlighted the point made in the session that as technology evolves, "many of our panelists felt that it has elements of the cooperative principles embedded in it, such as self help and collective entrepreneurship."
Joseph Njuguna, Cooperative Entrepreneurship Policy Coordinator at the ICA, reported on the parallel session which looked at Strengthening our Cooperative Identity by Supporting an Ethical Value Chain Management. "Despite the robust regulatory framework at a global level implemented to fight exploitation, the ILO still estimates that we have over 25m adults and 160m children who are in forced labour." Traceability and transparency, inclusiveness, equality, consumer education, training and awareness were highlighted as some of the key considerations in promoting the cooperative identity through supply chains.
Ander Etxeberria-Otadui, Director of Cooperative Dissemination at the Mondragon Corporation spoke about the session on Strengthening our Cooperative Identity by Having a Strong Entrepreneurial Network. The two main ideas Mr Etxeberria-Otadui fed back were that when coops work together, "cooperatives are stronger, and members are stronger," and a point on the importance of both solidarity and efficiency, saying "it is about the spirit and it is about the business – we are cooperatives."
Juhee Lee, Manager of International Cooperation and Activities of iCOOP, reported on the session about Strengthening our Cooperative Identity by Supporting Entrepreneurial Innovation. A key insight shared by Ms Lee was that when coops face challenges, they have to "drive or develop innovative ideas to overcome the crisis," and that overcoming these challenges gives coops an opportunity to reinforce their identity.
Reporting from the session on Strengthening our Cooperative Identity by Meeting Future Capital Needs was the Managing Director of Inpulse Investment Manager, Bruno Dunkel, who said that the panelists in his session made a call for new access to dedicated funding, as well as to capacity building and technical assistance for coops, in order to meet challenges when it comes to innovation, digital transformation and developing resilient production systems. Mr Dunkel communicated what he called a very strong and clear message for more and better cooperation within the cooperative sector, as well as a second message from the session, that funding can come from outside the cooperative sector in order to move away from today's challenges towards long-term and sustainable development.