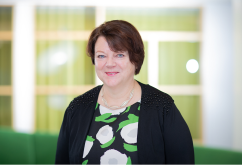 퍼실리테이터
동시세션 2.2: 윤리적 가치사슬 경영을 지원함으로서 경쟁력의 토대인 협동조합 정체성 강화하기
연사
INTRODUCTION TO THE INTERNATIONAL COOPERATIVE
ENTREPRENEURSHIP THINK TANK AND LAUNCH OF THE
WORLD COOPERATIVE MONITOR 2021
Marjaana Saarikoski is representing Finnish cooperatives at the Board of the International Cooperative Alliance since 2017. She is also the Vice-President of the Euro Coop – the European Community of Consumer Cooperatives.
She has been with consumer cooperative S Group since 1983 in various leadership positions in sales, marketing, chain/ concept management and its customer loyalty program. Ms. Saarikoski has wide business experience of retailing and cooperation with various stakeholders.
She holds Master of Science in Economics from the University of Tampere. She has completed Aalto University Aalto JOKO – management training program and several management studies including HLJ – program in Pellervo PI-Leadership Academy and CBM Certified Board Member program by Tampere Chamber of Commerce.
"I believe that the cooperative movement is a flourishing business model for the future, and in working together more deeply in new ways we are able to build a better world."