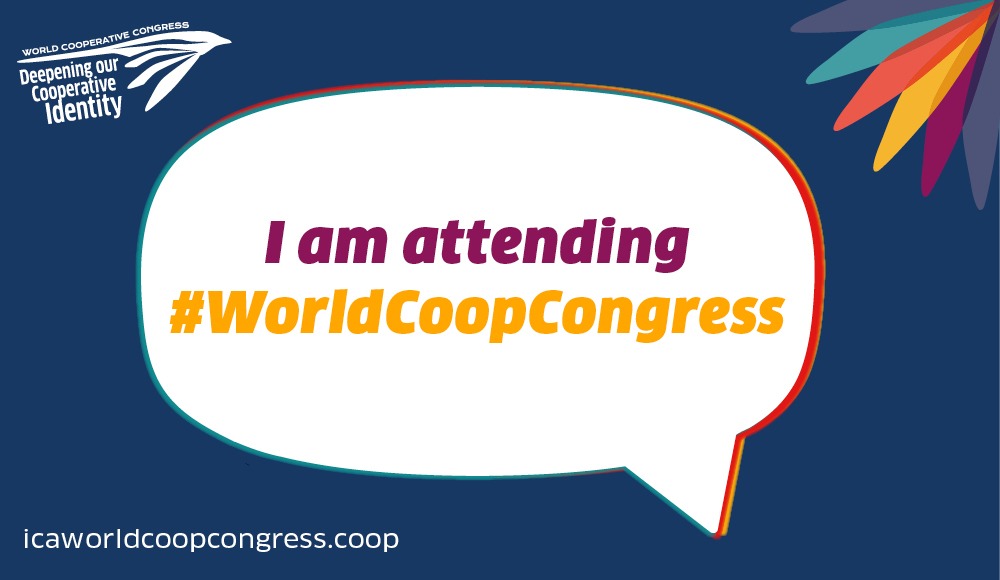 The 33rd World Cooperative Congress is finally upon us, with a packed programme of events aiming to deepen the cooperative identity by examining its values, strengthening its actions, committing to its principles and living its achievements.
There are a number of ways you can enhance the impact of Congress by sharing this week's activities on social media. We would love to see cooperators from around the world joining the conversation, sharing questions and discussion points and helping to amplify our collective cooperative voice!
Take this opportunity to highlight cooperatives, other attending cooperators and featured speakers in your country. We would love to see conference-related images, videos, and online content from attendees on social media.
You can do so by becoming a #WorldCoopCongress Ambassador: download the "I am attending the Congress" poster here, take a picture with it and tell people why you'll be attending Congress.
When doing so, tag cooperative businesses in your country, and the ICA, with @ICAcoops on Facebook, Twitter and Instagram, and @International Cooperative Alliance on LinkedIn. Use the hashtags #WeAreCoops and #WorldCoopCongress to increase the reach of your posts, along with any relevant hashtags for your own cooperative networks.
We are here to help: we have created a range of promotional materials including videos, social media posts and graphics for you to use on your website, social media accounts or direct communications with your members. All of this can be found in our media kit here.
We are thrilled to be embarking on this week's Congress journey with you – together, we can lift the voices and stories of cooperators around the world for a truly historic event.