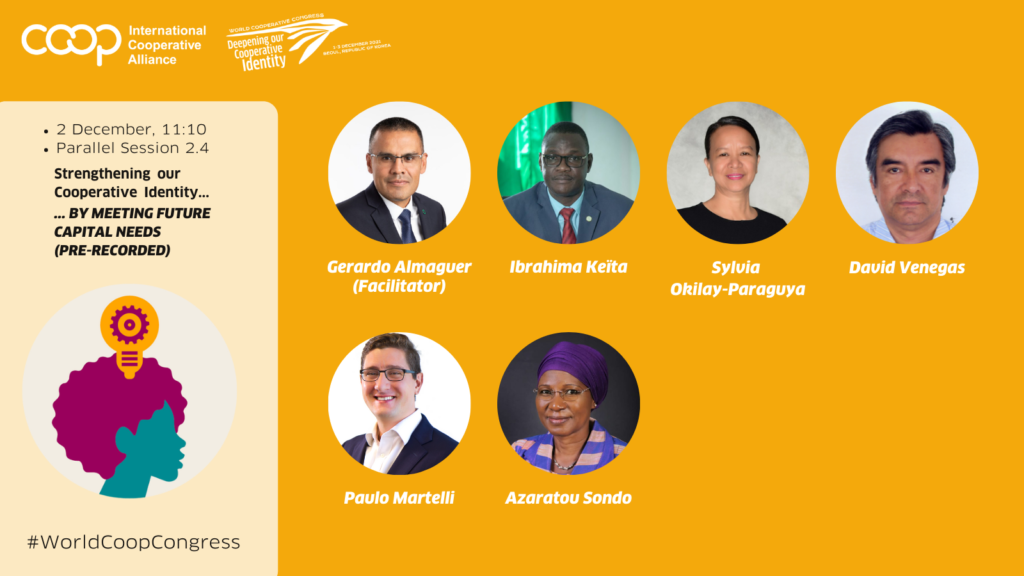 Delegates at the World Cooperative Congress heard from an international panel in a session on Meeting Future Capital Needs on the second day (2 December 2021). 
Chaired by Gerardo Almaguer, President and CEO of Développement international Desjardins (DID), Canada, delegates discussed how different cooperative enterprises meet their financing needs. He started by saying it was a particular challenge to access finance during the pandemic and this was essential for cooperatives to innovate, be resilient, grow and succeed during this challenging time.
Sylvia Okilay-Paraguya, the General director, NATCCO – a finance platform based in Philippines, highlighted how in the Philippines it is easy to borrow now – but that for new cooperatives starting out, accessing finance is much more difficult. "Long and short term funding is available but the slow down in the economy has meant our liquidity is very high," she said. "So we have the capital that we need but for new ventures involving digitisation it can be a struggle."  
David Venegas, the CEO, Café Perú, a coffee cooperative, agreed there was money in the market but there were limitations. "Money is easier to access if you are a financial co-operative rather than a producer," he said. "If you want to become a coffee producer you need to wait three years until you can make any money. So you need short and long term liquidity to sustain you. This creates a lot of financial stress." He added that in Peru, the main problem is the economy, which makes accessing credit lines "very difficult".
Ibrahima Keita, the Directeur Général à Kafo Jiginew in Mali, explained that his cooperative, a microfinance one, started in a small cotton producing village in 1987. It then spread to Southern Mali, the main cotton-producing region which now accounts for 40% of Mali's GDP and supports around 4 million people.
"We support family small holders, farmers, craftsmen and traders and balance our funding between urban and rural people," he said. "We offer short term and midterm loans and also have 46 billion CFA francs in savings from our members, about $116m of which we distribute about 42 CFA billion francs or $70m to our members. However, these are all mainly short term loans – we cannot support long terms needs like funding a farm so they have to go to the banks. As a result we have just created our own bank."
Paulo Martelli, the Vice President and Chief Investment Officer for FinDev in Canada, a finance development institution, explained that they financed private sector international development opportunities which provided a commercial return. "We look through a development finance lens," he said. "That for us means three main things – women's economic empowerment, local market development and climate mitigation and adaptation."
He explained how the organisation provides a number of different financial solutions including senior or long term loans to direct equity investment. "Development finance institutions such as FinDev Canada and others in this space could be a valuable tool for cooperatives around the world," he added.