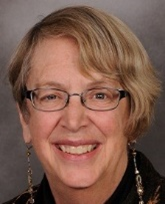 Panellist
Parallel Session 1.2: Through Inclusive Governance
Ann Hoyt is Professor Emerita at the University of Wisconsin-Madison where she was a consumer cooperative specialist with a focus on cooperative governance. She has served on many cooperative boards of directors, including the University of Wisconsin Credit Union for 21 years, nine years as chair; the National Cooperative Business Association for 25 years, 2 years as chair; and the National Cooperative Bank for 6 years. She was inducted into the United States Cooperative Hall of Fame in 2015 and became an Emerita Director of the UW Credit Union in 2016. Currently, she is Board Chair of the Group Health Cooperative of South Central Wisconsin, and Vice-President of the Willy Street Grocery Cooperative in Madison.
How have cooperatives impacted your community?
There are 171 cooperatives in our county. They are worker, farmer and consumer owned and provide hundreds of services from insurance to health care, housing and agricultural supplies to hundreds of thousands of members throughout the county and the state. They provide thousands of jobs for county residents and donate millions of dollars to non-profit and community organizations.