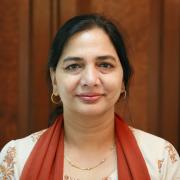 Rapporteur

1.1 – Through a strong cooperative brand
Mme Savitri Singh est la directrice exécutive de la National Cooperative Union of India (NCUI) et directrice de programme à l'ACI Asie-Pacifique. Elle a plus de 30 années d'expérience de travail avec des organisations coopératives nationales et internationales à divers titres à un niveau de gestion supérieur. Elle a travaillé pendant 18 ans avec l'ACI AP et avec 109 organisations coopératives et gouvernementales dans 32 pays de la région Asie-Pacifique, y compris l'Inde.
Au sein de l'ACI, en tant que directrice de programme, elle était responsable des programmes de politique et de développement tels que le projet de partenariat ACI-UE, la conférence des ministres Coop AP, la conférence des registraires Coop, les forums Coop, les forums régionaux des femmes, représentant l'ACI-AP dans l'équipe responsable du développement du projet de partenariat ACI-UE et de divers autres programmes de développement coopératif, de plaidoyer, de lobbying et de renforcement des capacités.
Avant de rejoindre la NCUI et le bureau régional de l'ACI, elle a travaillé en tant que directrice adjointe, commerciale, directrice des ressources humaines, Vigilance et relations publiques à la Tribal Co-operative Marketing Federation of India (TRIFED) sous la direction du ministère de la Protection sociale du gouvernement de l'Inde.