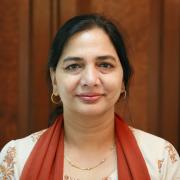 리포터

동시세션1.1: 강력한 협동조합 브랜드를 통해 협동조합 정체성 다시 돌아보기
Mrs. Savitri Singh has more than 30 years experience working with national and international cooperative organisations in various capacities at higher management level. She has worked for 18 years with ICAAP and with 109 cooperative and government organisations in 32 countries in the Asia-Pacific region including India.
She has expertise in cooperative law and policy, general administration, human resource development, relationship building with various stakeholders such as government ministries, international organisations i.e. European Union, UNDP,FAO,ILO,SAARC,ASEAN, Indian national cooperative unions and federations as well as national coop federations in 32 ICA member countries, fund raising, writing policy papers, articles, manuals and other publications. She has excellent communication skill and has represented ICA as speaker at various national and international platforms and at ICA-ILO side events in United Nations, New York.
She has in depth knowledge of Indian cooperative movement. Due to her work on project implementation, she has travelled across India and developed relationship with cooperatives and state coop unions across the sector.
In ICA, as Program Director, was responsible for policy and development programs such as ICA-EU Partnership Project, AP Coop Ministers' Conference, Coop Registrar Conference, Coop Forums, Regional Women Forums, representing ICA-AP in the team responsible for developing of ICA-EU Partnership Project and various other coop development, advocacy, lobbying and capacity building programs.
She is instrumental in initiating various policy and advocacy programs, women empowerment and gender mainstreaming programs, addressing social issues affecting cooperatives such as establishing and running NCUI Haat, a marketing outlet to support rural artisans, revamping of course curriculum at the NCUI education centre, launching study of cooperative's contribution to national economy in India to name a few, and awareness on HIV/AIDS, handling communication, Editor of newsletters and Annual Activity Reports, conceptualising, commissioning of and contributing in research, study and training manuals, project on need of sex-disaggregated data collection and analysis, Critical Study on Co-operative Legislations and Policy Reforms, Advanced Training Manuals for capacity building of women etc. She is representing ICA at various platforms globally and at side events at Commission on Status of Women in United Nations and also contributed as ICA Expert on Gender-responsive Institutional and HRD Capacity Building for Promotion of Agricultural Co-operative Enterprise Development with FAO project on Enhancement of Food Security and Poverty Alleviation through Improved Institutional Capacity of Agricultural Cooperatives in Nepal.

Mrs. Singh has a Master Degree in Political Science and a Post Graduate Diploma in Personnel Management & Industrial Relations. She has also attended various trainings on agriculture credit, processing & marketing of agri products and food safety, enterprise development etc.
Prior to joining NCUI and ICA Regional Office, she worked as Deputy Manager, Commercial, HRD, Vigilance and Public Relations in Tribal Co-operative Marketing Federation of India (TRIFED) under Ministry of Social Welfare, Govt. of India.