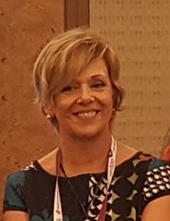 Facilitator
Parallel Session 1.4: Through cooperative culture and safeguarding cultural heritage
ICA G20 WG PROMOTING THE COOPERATIVE IDENTITY IN THE G20
Stefania Marcone is the Vice President of Cooperatives Europe, chair of the Gender Equality Working Group, and also serves on the ICA's Gender Equality Committee. She also is a member of Legacoop National Commission for Equal Opportunities and the Italian Alliance Commission on Women and Equality. Ms. Marcone was appointed in 2012 to serve on the UN Committee for the International Year of Cooperatives.
Ms. Marcone served on the ICA Board of Directors for 8 years, and was involved in a number of key initiatives including fostering the gender equality policy, establishing a global network of young cooperators, cooperating on development projects, strengthening relations with international institutions and the UN agencies, and promoting the collaboration among cooperatives.
Ms. Marcone has served in various capacities at Legacoop, Italy's oldest cooperative organisation, which has more than 15,000 members present in all regions and productive sectors. For Legacoop, she manages the European Affairs for the organisation and has also also worked directly with Legacoop's leadership team, regional branches and member cooperatives.