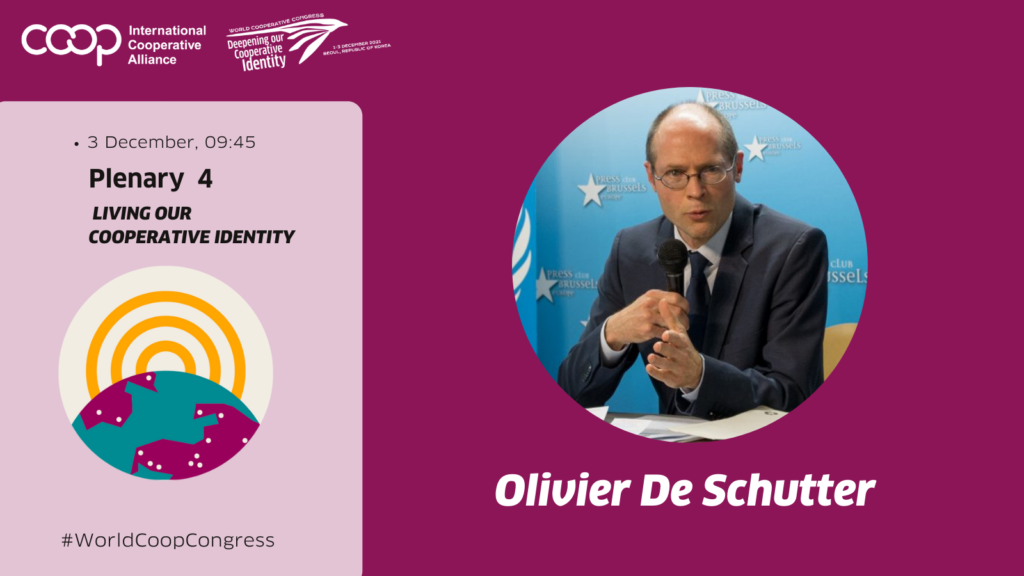 Delegates at the #WorldCoopCongress explored how cooperatives offer effective approaches to sustainable development, with a plenary comprising a panel of experts and researchers, who examined how the UN global policies are being turned into effective local actions.
Olivier De Schutter, UN Rapporteur on Extreme Poverty and Human Rights talked about the role of cooperatives in building a new economic development model that is defined not just in terms of GDP growth.
"The patterns of growth we've been developing in the past are simply not sustainable … Cooperatives focus on long-term sustainability rather than profit for shareholders and wealth creation alone," he said, adding that they worked with their local communities.
He warned that while many companies were beginning to take into account their environmental and social performance, there was a danger of these being seen as competitive assets.
"In a way that is an opportunity but also poses a risk that environmental, social and governance indicators will be improved as long as this fits with the bottom line of mainstream businesses – which is maximising shareholder value".
He added that the cooperative movement was "about more than just a better, more sustainable and ethical way of doing business." "It is ultimately about power," he said.
Mr de Schutter described cooperatives as an alternative business model and said their message was "hugely important" as the world searches for a new development model in line with the SDGs.
Next on, Nazik Beishenaly from Leuven University presented her study of the impact of cooperating on SDGs, which found that cooperatives contributed to the SDGs by promoting inclusion and providing access to goods and services, sustainable housing, and sustainable energy, among others.
Based on these findings, she recommended that cooperatives communicate on activities linked to the SDGs as well as reflect and integrate cooperative specific drivers and enablers. She suggested identifying SDGs goals and targets based on the TOC theory and developing metrics that are relevant. She also encouraged them to showcase their cooperative differences and establish a regular data collection system.
During a panel discussion that followed the presentations, representatives from various sectors explained how cooperatives were leading the way in different areas.
Anders Lago, President of Co-operative Housing International, Chair of HSB and of the ICA International Cooperative Development Platform and ICA Board Director, Sweden, argued that housing cooperatives had been socially and economically sustainable long before the UN's SDGs.
IHCO Chair Carlos Zarco said that cooperative specific targets and indicators were required to demonstrate the sector's contribution to the SDGs.
Giuseppe Guerini, the President of CECOP, revealed that his organisation was working on developing indicators for worker and industrial cooperatives in order to be able to collect data on the cooperatives' contribution to the SDGs. He added that it was in the DNA of worker cooperatives to promote several SDGs, including SDG 8 – Decent Work and Economic Growth and SDG 9 – Industrial innovation and infrastructure.
"We make resources available for generations to come – this is very different from the way companies operate," he said. "We are committed to all the other SDGs as well, especially SDG1 – eliminating poverty in all forms."
The panel also heard from Shaun Tarbuck, chief executive of the International Cooperative and Mutual Insurance Federation (ICMIF), who expects all forms of businesses to become more vocal about the SDGs.
He noted that while greenwashing was a big challenge, it did not apply to the cooperative and mutual insurance sector. "We are transparent, that is why we are the trusted part of the community," he said.
ICMIF is developing an SDGs calculator for the cooperative and mutual insurance sector, which it intends to launch in October 2022.
Prof. Ryota Koyama, Faculty of Food and Agricultural Sciences, ICAO Fukushima University, Japan, also shared lessons from the response of the Japanese cooperatives to the 2011 Fukushima nuclear disaster.
In the aftermath of the disaster, Japanese consumer and agricultural cooperatives worked together to take the required safety measures and measure the level of radiation. Assistance was also provided via the Fukushima Network for Local Production and Consumption, which provided emergency assistance to members.
The network built in the aftermath of the disaster was maintained and cooperatives are now working with the local university to develop renewable energy projects. During the COVID-19 crisis, local agricultural cooperatives were among the first to respond and provide food staples to university students in isolation. The university also works closely with cooperatives to carry out research projects.