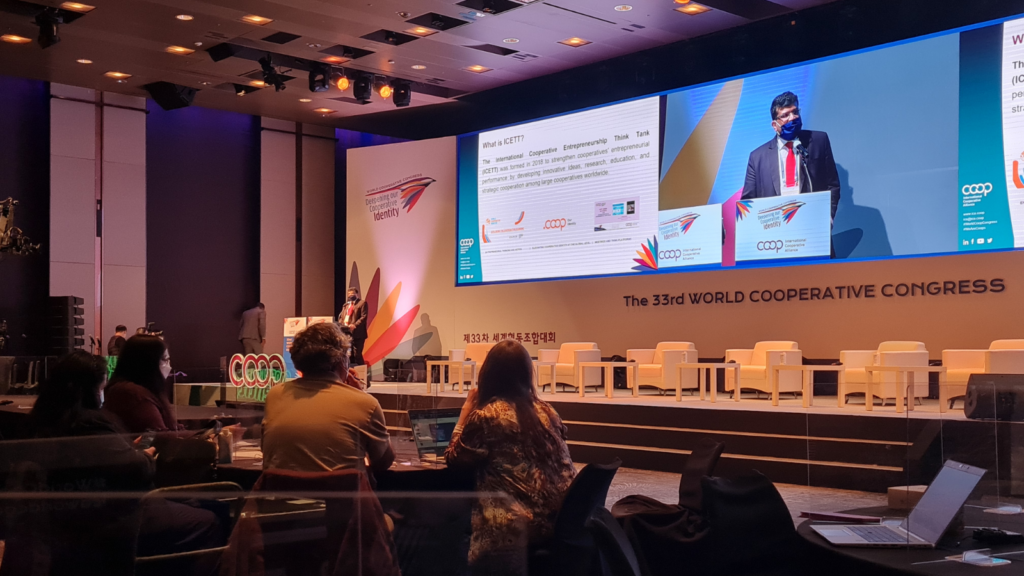 The 2021 World Cooperative Monitor (WCM) was launched on 30 November during a dedicated session ahead of the World Cooperative Congress in Seoul.
In its tenth edition, the WCM is published by the International Co-operative Alliance (ICA) with the scientific and technical support of the European Research Institute on Cooperative and Social Enterprises (Euricse).
The 2021 edition is based on data collected in 2019 and features rankings based on turnover as well as the ratio of turnover over gross domestic product (GDP) per capita. It also includes as an evaluation the actions of the top 300 co-ops in terms of environmental sustainability, human rights and equitable growth and a series of examples of how co-ops came to the aid of their communities during the COVID-19 pandemic.
During the session EURICSE General Secretary, Gianluca Salvatori said: "If an enterprise is devoted to maximising profit they have a different approach, co-ops as socially responsible businesses have a long-term approach."
He explained that while other business models are trying to set criteria for demonstrating their social impact, cooperatives had this in their DNA.
Sonja Novkovic, the Chair of the ICA's Research Committee highlighted the role of the WCM as an important resource for researchers.
Tarun Bhargava, chair of the International Cooperative Entrepreneurship Think Tank (ICETT) explained that ICETT played a key role in enabling the ICA to work closely with members to have their input in the WCM. ICETT was formed in 2018 by the ICA to strengthen cooperatives' entrepreneurial performance.
ICA Director General Bruno Roelants highlighted the successful collaboration between Euricse and the ICA, and more recently, ICETT, to produce the World Cooperative Monitor. He added that the WCM started including other elements to examine the social and environmental impact of cooperatives and their contribution to the SDGs, which succeeded in attracting the notice of the UN Secretary General.
The discussion continued during a separate session in which ICETT members provided an overview of their activity across four thematic areas: Future of Work (presented by Sarah de Heusch); Human Rights in Value Chains (presented by Marjana Saarikoski); World Cooperative Monitor and SDG 13 (presented by Peter Westall); and Cooperative Identity & Competitive Advantage (presented by Iñigo Albizuri).
Martin Lowery, the Chair of the Co-op Identity Committee of the ICA Board highlighted the important role of ICETT's work and the World Cooperative Identity in helping to promote the conversation around the cooperative identity.
"All four of those issues are absolutely relevant, not only from the point of view of the SDGs but also from the point of view of this programme, 'Deepening the cooperative identity'."
He said the conversation around the cooperative identity would continue after Congress and ICETT's work is a critical component of future thinking and dialogue.
Read the World Cooperative Monitor Press release here!