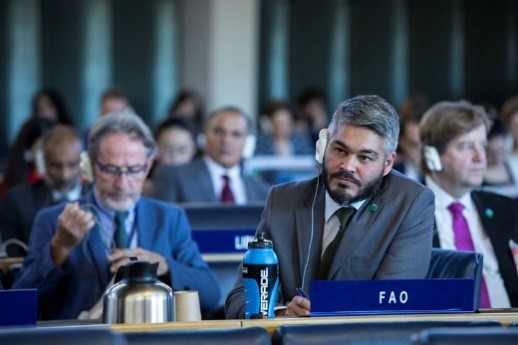 Panellist
4.3: With Enhanced Food Security
Guilherme Brady is the Head of the Unit for Family Farming Engagement and Parliamentary Networks within FAO Partnerships and the UN Collaboration Division. He is the officer responsible for the Joint Secretariat FAO – IFAD for the United Nations Decade of Family Farming.
Mr. Brady holds specialization in Public Policies and Governmental Management from the National School of Public Management (ENAP), Brasilia, Brazil, and a Master's Degree in Environmental Policy and Management from the University Carlos III, Madrid, Spain.
From 2006 to 2014, he worked at the Brazilian Ministry of Agrarian Development with different roles, including Head of Cabinet of the Secretary of Family Agriculture and Head of the Minister's Advisory Office.
He has 25 years of professional experience, mainly focused on building inclusive policy dialogue and implementing public policies – 4 years with International Civil Society Organizations (Oxfam Great Britain), 13 years in different public sector institutions and 8 years in international organizations (FAO).
Mr. Brady joined FAO in 2014. Among his duties, he was responsible for FAO relationship with Civil Society and Producer Organizations, to implement FAO's Strategy on Partnerships with CSOs and he is now responsible for leading the implementation of the United Nations Decade of Family Farming.