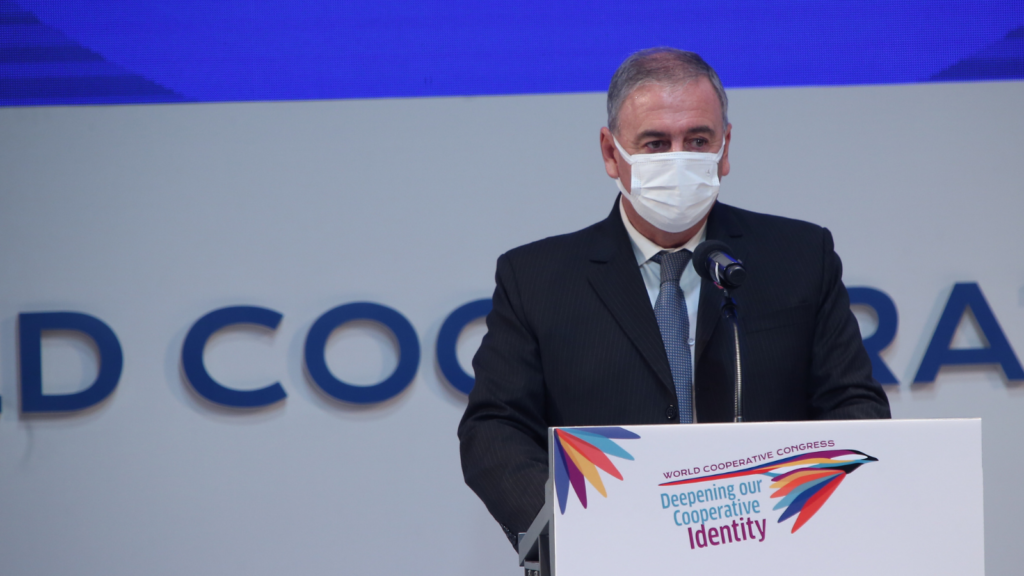 During his speech at the opening of the World Cooperative Congress ICA President, Ariel Guarco highlighted the role of cooperatives in tackling some of humanity's greatest challenges.
After taking a minute of silence in the memory of those who lost their lives during the pandemic, he described how cooperatives around the world helped local communities cope with COVID-19 challenges.
"Cooperative friends from around the world, we arrived at this Congress after two years of much pain, plenty of worries and a lot of uncertainty… Our families have suffered, our associates have suffered, our communities have suffered…
"But we also arrived at this Congress with great pride! The pride of having demonstrated, once again, the enormous strength of our cooperative business model to face the crises. To give answers to the necessities of our partners and communities at the worst of times.
"We have proven, once again, the resilience of our model. This is no coincidence.. It is the result of the strength of our cooperative identity. We have to be proud of our model and of our identity."
Mr Guarco said Sustainable Development had been part of our DNA for many decades and was explicitly incorporated into the cooperative principles in 1995.
He mentioned the long history of the ICA, which celebrated its 126th anniversary this year, adding that it was "a story dedicated to build and defend our Cooperative Identity."
He said he was looking forward to hearing the Congress discussions around the cooperative identity, but added that cooperators should remember their responsibility to "guard our cooperatives' identity," and any suggested changes to it should be carefully considered, debated and desired by the cooperative members from all regions and all sectors on a global scale.
He added that the cooperative identity provided cooperatives a competitive edge. He explained that cooperatives were empowering members, investing in education and training, and cooperating with other cooperatives to provide the best services to their members.
"We know that our cooperatives are competitive as a result of the application of the Cooperative Principles, and not despite all the cooperative principles," he said.
"Our competitiveness is built from the Cooperative Identity," he added.
He concluded by thanking the government and cooperative movement of the Republic of Korea, the Congress sponsors and all participants.
"We count with the participation and commitment of each of you to reach the goal and achieve the success of this Congress," he said.