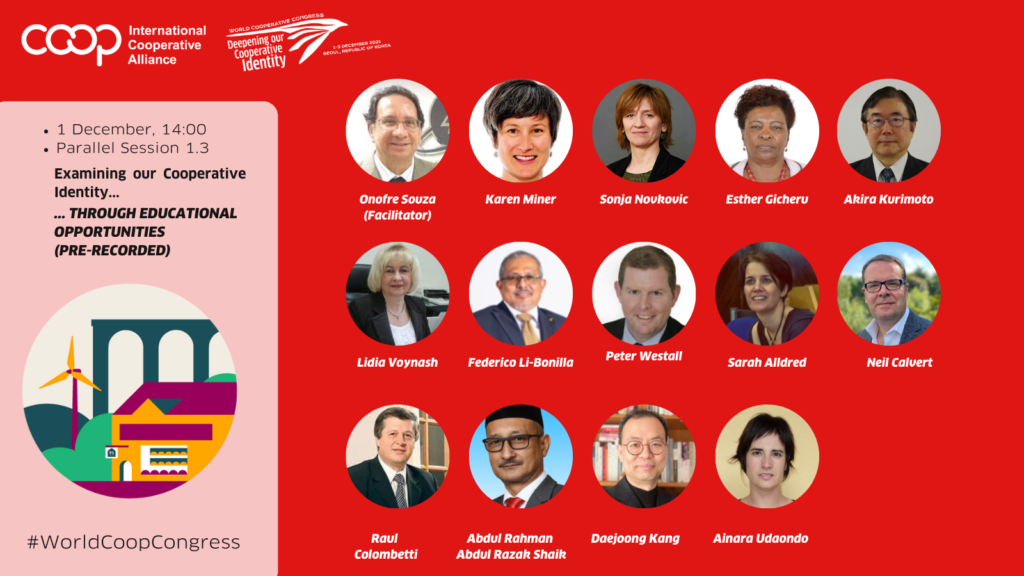 A pre-recorded session on Examining Our Cooperative Identity Through Educational Opportunities was presented at Congress on the afternoon of 1 December, where a number of cooperators from various educational institutions shared information, experiences and insights from their work.
The session's chair, Dr. Onofre Cezário de Souza Filho, President of Organização das Cooperativas Brasileiras de Mato Grosso and ICA Board Member, opened the discussion, asserting the importance of education to the cooperative identity and drawing listeners' attention to the fifth cooperative principle of education.
A number of examples of cooperative educational programmes were shared including a presentation by Dr. Esther Gicheru, Deputy Vice Chancellor of Finance Planning & Administration at The Co-operative University of Kenya, who shared her experience in the university, which currently offers a bachelor's and master's degree in Cooperative Management, and as of this year is also running a PHD programme.
Also presenting to the session was Abdul Rahman Abdul Razak Shaik, Associate Professor of Angkasa in Malaysia, who explained how his organisation offers hundreds of training courses for cooperative members, and Lidia Voynash, Director of the Department of Personnel Policy, Education and Science at Ukrkoopspilka, who explained that Ukrkoopspilka's educational network includes two universities and nineteen colleges where professional training and education is carried out at a range of levels.
All of those presenting stressed the importance of education in deepening the cooperative identity and furthering wider cooperative aims. Sarah Alldred, Head of International Partnerships at The Co-operative College in the UK, spoke alongside the college's Dean, Neil Calvert, in the session. Ms Alldred said "cooperative education plays a key role in shaping people, the economy, the environment and society at large".
Pete Westall, the Chief Values Officer at Midcounties Cooperative in the United Kingdom said "education is a big thing for us – education of our members, education of our colleagues, but crucially, education of future and potential new members." Sally Bonnar from Midcounties then shared information about the cooperative's Little Pioneers childcare service, which operates 46 nurseries around England and aims to instill cooperative values in the children they care for.
Despite the importance of cooperative education, a number of those presenting highlighted an apparent lack of cooperative education in their experiences.
The Chair of the ICA Committee of Cooperative Research, Dr. Sonja Novkovic, explained that in her work, she sees young people with values which are aligned with those of cooperatives only "stumbling upon" the cooperative model, rather than having the information made readily available to them. "For the cooperative movement, it is critically important to broaden the scope and reach more people, but also to educate cooperative leaders themselves on how to run coops according to the values and principles," said Ms Novkovic.
Karen Miner, the Managing Director of the International Centre for Co-operative Management at Saint Mary's University in Canada explained how the centre originated from a need communicated by the cooperative sector for more education focused on the cooperative enterprise model. Ms Miner quoted a line from a discussion paper submitted to Congress which read "the predominance of other business models in business education makes it even more vital to promote the cooperative business model through education," saying that this summed up the situation for cooperative education.
The different ways in which cooperative educational aims can be achieved were also discussed in the session. Chair of the Board of Sancor Seguros in Argentina, Raul Colombetti, stressed how cooperative education needs to be more than theory based, saying that "cooperativism shouldnt only be approached from an academic point of view. Instead, one should also learn by practicing on a daily basis," whereas the President of the National Institute for Lifelong Education in Korea, Dr. Daejoong Kang, spoke about how much of the current cooperative education in Korea is extra-curricular, rather than taking place within formal institutions. He believes that school based cooperative education is something which could be further developed in the future.
Director of the LANKI Institute of Cooperative Research at Mondragón University, Ainara Udaondo, explained how the way Mondragón University operates as cooperative itself is integrated into the education they provide, saying, "this gives us an interesting starting point to be able to experiment with the cooperative proposal."
Dr. Federico Li-Bonilla, the Dean of the School of Administration Sciences at Universidad Estatal a Distancia, explained how his organisation has been developing a managerial education programme for coops, with Dr. Monserrat Espinach, who explained their process with those they work with: "we work by analysing the environment of the place where we arrive, and from there we visualise which of their needs can be an emerging opportunities that unites them in a common good."
A number of speakers in the session connected the work of their organisations to the SDGs, including Alsu Nabieva, Director of the Russian University of Cooperation, which is responsible for the education of 80% of cooperators in Russia. Ms Nabieva said "the transition to sustainable development begins with the foundation of education and the formation of a new globally sustainable consciousness."
She also believes that the role of cooperative education will increase: "Cooperative principles and cooperative identity lie in the same place as the goals of sustainable development."