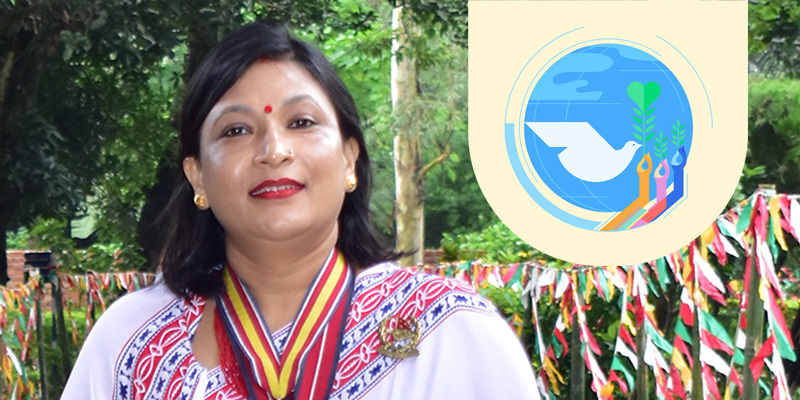 Om Devi Malla is the Senior Vice-Chair of the National Cooperative Federation of Nepal and sits on the global board of the International Cooperative Alliance (ICA). She is a campaigner for peace and women's equality and at the World Cooperative Congress is chairing the session exploring how cooperatives should be Committing to our Cooperative Identity … For Peace and Equality (session 3.2).
Following World Peace Day (21 September), she shares her thoughts on the connection between peace and the cooperative identity.
What should delegates expect from your session at the World Cooperative Congress?
Peace is the common objective of all mankind. But peace built in front of soldiers and guns is ephemeral. Whereas inbuilt peace from society itself is long-lasting.
Our session is called "Committing to our Cooperative Identity … For Peace and Equality" and will explore all possible aspects of peace and ways of behaving with the sense of equality. This session will not only highlight ways of maintaining peace through cooperative activities and behaviours, but also the value of equality, which proportionately contributes to peace and harmony by considering members as self-respected identities. These two subjects are connected, exposing the importance of cooperatives as significant agents of building peace in society even in the time of civil war, insurgency, and domestic violence. On top of everything, the session will explore the value of understanding the role of cooperatives for peace and equality.
How is the cooperative identity linked to peace, equality and reconciliation?
Cooperatives, by virtue of their tradition and based on the values and principles, develop the feeling of unity through the integration of the people in society. Cooperative identity is the collection of common bonds and contributes to social harmony and peace. The cooperative identity elaborately explains the importance of cooperation among cooperatives, cooperation among cooperators, and joint cooperation in society. Moreover, cooperatives share the opportunities equally even to voiceless and underprivileged people. This attitude is based on the values of equity. All those practices are guided by the Statement on the Cooperative Identity.
How can cooperatives contribute to peace and reconciliation in post-conflict areas?
Unequal distribution of productive assets, resources and opportunities has resulted in equality gaps which intensify grievances among people, resulting in pressure to change the economic rules of the game and introduce new agents of economic activities. This is why cooperatives are regarded as the building block for overcoming the socio-economic differences of the people in every country.
In Nepal, for example, in the time of 10 years' armed conflict (1996-2006), Nepalese cooperatives significantly contributed to peace and equality through the mobilisation of local scattered resources, creating financial accessibility and fulfilling credit needs of people at the local level. That's why cooperatives have been trusted by local, marginalised and vulnerable people for their socio-economic empowerment. Cooperatives, as economic enterprises, worked for people's livelihood and employment. Cooperatives fulfilled the financial needs of the people through the investment of shares and savings and other economic activities, creating businesses and jobs. Moreover, they created an environment where people were not exploited by the high interest rates imposed by debtors. During the insurgency period, many banks in rural areas were closed down and employees returned to the urban areas. However, cooperatives continued their services without any disturbances. They have resilience because of their distinct values and operating principles, as explained in the Statement on Cooperative Identity.
How have cooperatives contributed to the fight against gender-based violence?
We all know that non-discrimination is an important value of cooperatives, so there should be an equal, level playing field for both men and women in cooperative businesses. Many cooperatives, especially those operated by women, have been playing a very important role in mitigating gender-based violence in Nepal. For example, some women cooperatives have campaigned against the use of drugs and alcohol, particularly for husbands. Women cooperatives – especially those in the countryside – have been working to reduce domestic violence by men inside the home.
How can cooperatives approach conflict resolution inside cooperatives and democratic member control?
The spirit of cooperation among members and between cooperatives contribute to harmony and peace. Decision-making in cooperatives should use a consensus-building approach based on the 2nd cooperative principle – this is an important aspect of bringing people to an agreement through a common interest. So the sense of cooperation for a common interest should be the approach to conflict resolution.
What does 'cooperative identity' mean to you?
Cooperative identity is everything for cooperatives and cooperators around the world. Cooperative values distinguish cooperatives from other types of enterprise; additionally, cooperative principles are the operating foundation of cooperatives that direct us to develop our everyday activities. So, cooperative identity today is the guiding document for cooperators, planners, policymakers, regulators, development agencies and more.