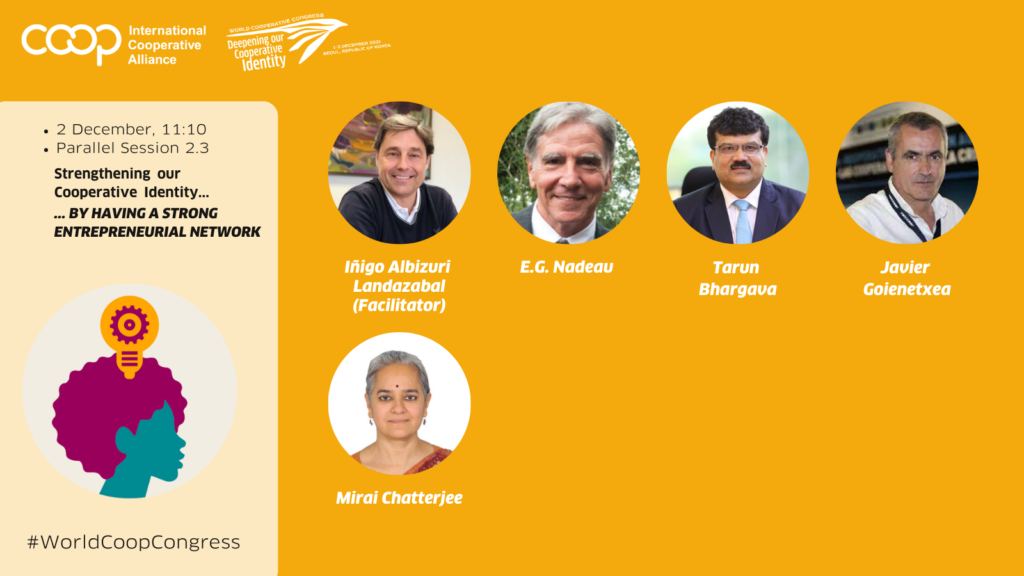 Parallel Session 2.3 focused on the importance of having a strong entrepreneurial network, with panellists exploring how cooperatives can work together and form partnerships with other organisations.
E.G. Nadeau, Co-Director, The Cooperative Society Project, USA, gave examples of cooperatives involved in international cooperative development projects in the energy sector. This work is particularly important, he said, since 800 million people in Africa, Asia and South America have no access to electricity and 2.5 billion people don't have access to clean energy for cooking.
In Liberia NRECA International helped to set up minigrid cooperatives, while a Mondragon Corporation cooperative built a solar panel fabrication plant in Burkina Faso.
"The international cooperative community has tremendous potential to serve millions of people," he said.
Tarun Bhargava, Chair of the ICETT, and IFFCO representative, described his cooperative's efforts to boost the incomes of its farmer members.
IFFCO runs 22 subsidiaries and collaborates with cooperatives as well as non-cooperatives, he explained.
The cooperative was set up in 1967 with the support of NCBA CLUSA in the USA.
"We started from day one believing in the principle of cooperation among cooperatives. We now work with 80 countries around the world," he added.
Javier Goienetxea, President of the Congress, Mondragon, Basque Country, explained that intercooperation was not just a matter of solidarity, but one of efficiency and sustainability.
Mondragon collects KPIs from each of its group divisions to ensure the best outcomes for projects. During times of crisis, the group has its own mechanisms to ensure worker members are protected.
"No one was left without a job in the history of the group," he said.
Mirai Chatterjee chair of Self-Employed Women's Association (SEWA) Cooperative Federation, India, described how her federation built an entrepreneurial network to provide business development and capacity building for women's cooperatives.
"If we are going to strengthen our entrepreneurial network then capacity building is critical," she said, explaining that SEWA is providing Organic farming training to women farmers.
During the pandemic, SEWA set up a new online marketplace for women's products, which is already doing well and generating a surplus.
SEWA also has a close relationship with the UK cooperative movement, which came forward to support them during the pandemic with a donation that helped them support cooperatives affected by the crisis. The fund was used to lend out to societies, ensuring they did not go under.
"The biggest challenge of all is reaching workers and having them join as entrepreneurs in our cooperative movement because they are scattered geographically and we are divided by castes, cultural differences and so on," she said.
"Citizens have understood that mutuality and solidarity is the way forward – we need to promote the cooperative identity more widely."